Before we start…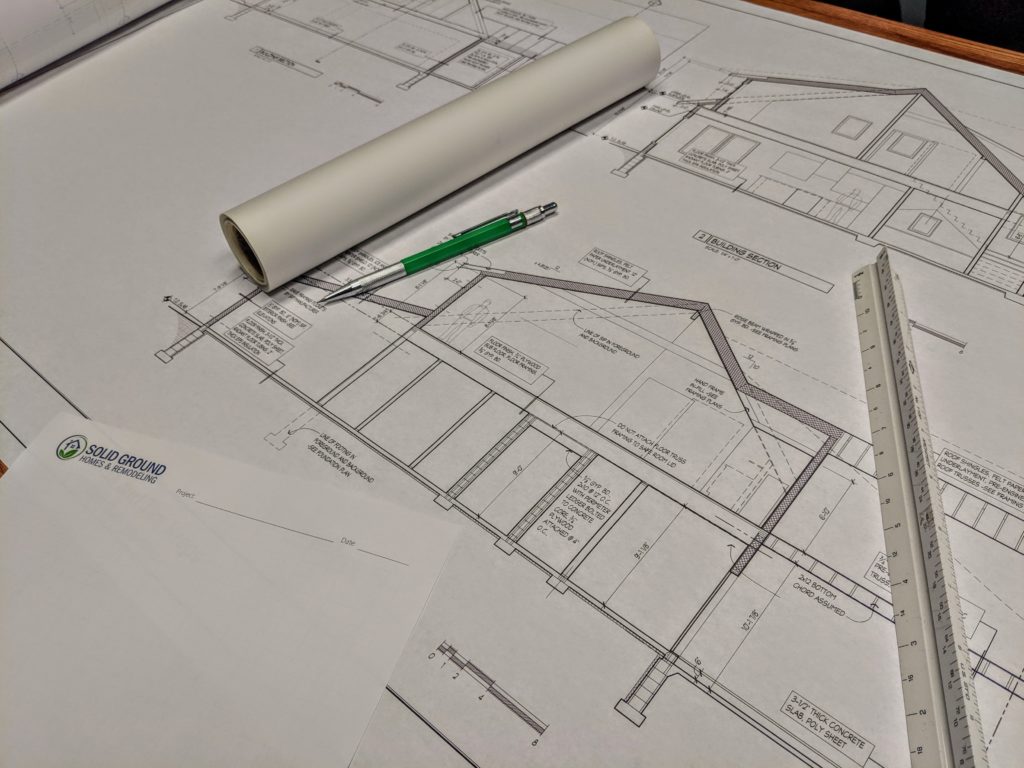 Before we start, it's helpful to know where we are going. That's why we have organized our process into clearly defined steps, steps that help track progress from the initial meeting to project completion.
Step 1: Initial Meeting
We meet to discuss your project and review the Solid Ground Homes & Remodeling process. We also discuss project costs and financing options.
Step 2: Pre-design/ Design (Design Phase)
Once the Design Agreement has been enacted, we start the design process by gathering the wants and needs as well as any site limitations. If this is a remodeling project, a site verification trip is performed, and as-built drawings will be produced. Ideas are sketched and modeled for evaluation, refining and adjusting.
Step 3: Construction Documents (Design Phase)
This step takes its name from the documents that are created. Construction documents are the detailed 'blueprints' and specifications for your project.
Step 4: Final Review and Bidding (Build Phase)
The construction documents are reviewed; final selections are made, and the documents are sent out for bid. Here we transition from the design phase to build phase.
Step 5: Proposal and Schedule (Build Phase)
The final proposal is assembled and presented to the owner. The contract is signed, and a construction schedule is established.
Step 6: Construction (Build Phase)
The building permit is applied for and materials start to get ordered. Mobilization to the site will begin and construction of your project gets underway!
Step 7: Project Completion (Build Phase)
All construction is completed, the one-year warranty is scheduled, and the project is turned over to the owner.
Again, these steps are typical, however, no two projects are the same. We try to adhere to this sequence as much as possible.
Now… let's get started!